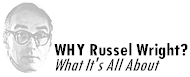 SEARCH OUR CATALOG
LINKS
EPHEMERA PAGE
CONTACT
C U R R E N T O B S E S S I O N S
2012 MODFATHER DESIGN AWARD
....goes to Ricardo Espino for his wonderful white onyx cheese board; you can see the one the Modfather got for Christmas directly below, and/or buy your own here.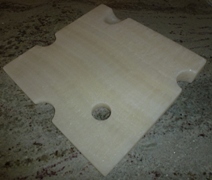 ....BTW, you can see last year's winner here.
THE MODFATHER SINGS!
God bless Andy Williams (R.I.P.). Here's the Modfather himself, singing alternate lyrics to that Andy Williams classic, "It's the Most Wonderful Time of the Year."
7 Park Avenue, New York City, May 1943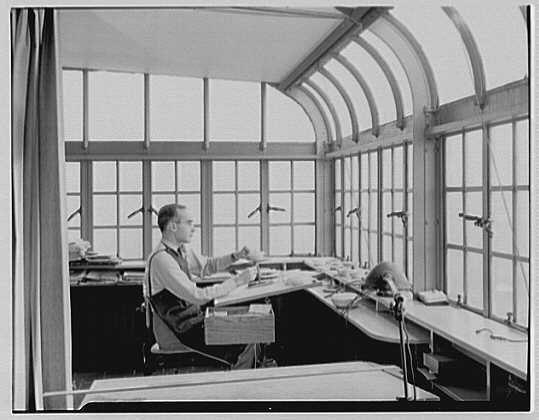 O L D E R P O S T S
BLOG FLOGGING
Don't miss these great local DFW MCM bloggers: Antay Bilgutay (Dallas) and Dana Perez (Fort Worth).
CURVY, BALLSY: R.I.P. EVA ZEISEL, 1906-2011
The great Eva Zeisel passed away on December 30th, 2011; she was 105 years old. The Modfather sends his sincere condolences to her daughter Jean Richards, and Zeisel enthusiasts everywhere. Read more here...
TIKI TIME
Why are we so damn queer for 60s-era "Polynesian Pop" artifacts and locales? It's definitely not the syrupy rum drinks, blech (forget the Mai-Tai, just give the Modfather a cold beer thank you). We can't riff on the nation's mid-century fixation with all things South Pacific any better than Sven Kirsten, who masterfully encapsulated the campy movement in his landmark 2001 Book of Tiki. From there, we'd recommend a visit to Critiki and Tiki Central, where you can get the low down on Tiki palaces still standing, and those long gone. There weren't too many here in Dallas, unfortunately. We did have a Trader Vic's (which made a short-lived comeback in recent years), and Stephen Crane's Ports O' Call, nestled on top of a skyscraper downtown. Then over in Ft. Worth you had Ren Clark's Polynesian Village, notable for their infamous (and highly desirable) "severed head" tiki mug. Most of the actual vintage tiki mugs you find these days are relatively worthless Japanese imports. But the tiki-themed wares made in America are hot, and we are always on the lookout for them, especially as we continue to beef up our restaurant ware offerings in general. Here's a cool matchbook cover pic from the old Trade Winds in nearby Tulsa. The neat thing about this place was their use of Frankoma pottery, including what is perhaps the most valuable vintage Tiki mug of them all.
DISSED LIST NOT TO BE MISSED
The Modfather is alternatively saddened and satisfied that the notoriously censored AOL Russel Wright e-mail discussion group is finally dead. Founded by Manitoga booster Dennis Mykytyn back in the mid-90s, the core members of this rag-tag bunch routinely came up with extraordinary findings, including many corrections to erroneous info found in the collector books. Unfortunately, there were some pathetically sensitive souls unable to withstand any perceived slight or negativity, which led to draconian post rejections (mostly bon mots from the Modfather). As you might expect, the lively discussion soon dried up and died.
JACKED BAUER
Just about a year ago, Bauer of California launched a reissue of some American Modern shapes; collectors were enthusiastic, but leery after the Oneida fiasco a few years ago. Like Oneida, Bauer felt compelled to include a bastard coffee mug, which is no doubt the harbinger of reissue line failure. The most obvious problem? Original vintage AM pieces are actually cheaper than their new Bauer counterparts, ouch. But the new pieces are much more durable, right? According to Bauer's own FAQ, this new pottery achieves its bright color by being low-fired, "which means that it has a greater tendency to chip," double ouch. Last month, Bauer announced the production of the pitcher and tumblers in "traditional Bauer colors" (including traffic cone orange, apparently)
LINENS & THINGS
RW devotee Gary Maurer and his lovely wife Laura have finally published their long-promised text on Wright's tablecloth work. The Modfather *did* finally get that promotional copy, and it's beautiful; you can get yours here
GOD REST YE MERRY GENTLEMAN
Here's a nifty belated Xmas card created by you-know-who. Given the message, it must date back to 1955, the year of the I.C.A. overseas assignment: COVER / INSIDE / BACK
THE WAY WE WERE (FOR REAL)
It pains him, but the Modfather highly recommends this article by one-time Modfather nemesis (and queeny old airbag) Sandy McLendon, writer/editor for the online mag jetsetmodern.com. In it, McLendon provides a somewhat sober reminder of what MCM meant to most people during the 1950s and 60s. No wonder we can never find what we're looking for at estate sales
PROUD MARY
One thing's for sure: If Russel's life ever gets the Hollywood treatment, the Oscar-bait role will go to the lucky actress playing Mary Wright, savvy co-conspirator, aristocratic but edgy muse, presumably long-suffering wife, and young cancer victim. When I started collecting RW, I didn't understand the fervor of the NYC cognoscenti for Mary. Then in 2002, the most intriguing component of the RW retrospective at the Cooper-Hewitt was a bizarro yet mesmerizing home movie clip of Mary, who was, as I wrote in 2002, "vogueing and sashaying around their NY apartment." The exhibit's accompanying book (see my Why RW? page for details) featured a chapter entitled "Marketing Easier Living," by Robert Schonfeld; for anyone who endeavors to understand Wright's life and work, it is a must read. The tale Schonfeld spins delineates the impact of Mary's talent, intelligence, support, charm and self-sacrifice on Wright's career, and it is nothing short of astonishing. I am holding a Bauer Country Gardens creamer I found today as I write this; it is simple, elegant and quite "natural," as she intended. So Hail Mary; without her, we might not have anything to talk about on this website today
TV SHOW & TELL TRAGEDY
Normally I wouldn't post forwarded video clips, but this one really got to me. I often daydream that someday I'll be the star attraction on Antiques Roadshow, but lord, please don't let it all go down like this (click to download)